This week in Literacy we have been learning about the Costa Concordia cruise ship.
Soon we are going to use the green screen to make our own news reports , just like BBC news! But we have to make sure that we are serious and that we have a formal tone so it is realistic. We have been learning loads as well as writing our facts and making them into news reports. Did you know that Captain Francisco  Schettino jumped out into a life boat when there were 4200 passengers and crew members were still on the ship that was sinking?  
We think this is terrible because Captains are  supposed to help people evacuate off the ship safely if there is an emergency.
 We also learned that  that the captain wanted to boast and do a little salute to another retired captain  who lived on the island where the Concordia hit some rocks. When it hit the rocks all the lights switched of and the captain told a lie in an announcement, saying that it's just a electrical problem. Then he dived into one of the lifeboats to save himself.
After a while the passengers were told that they should stay calm and that someone was coming to rescue them.  Meanwhile the captain was forced to get back on the ship and help… Before long  all this tragedy ended and when some of the people got safely on to land then found out that eleven  passengers that were on the ship died and two divers pulled out two elderly men  from the bottom of the ship! According to the chairmen of the cruise ship company (boss) 'Human error is to blame'  and they do not take responsibility for the incident .  The new revelations according to the captain, who said that the rocks weren't on his map and that he did follow the safety rules. And there is great news to end from the Italian government- Captain Francisco won't be sailing any more ships for the rest of his life because Francisco is in jail for the rest of his life. We think he deserves it for the tragedy he had  invented when there was no good reason for it.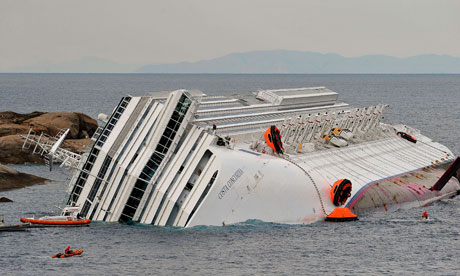 This is 'Costa Concordia' they say it was one of the largest ship these days!.
This is Captain Francisco Schetonio, who is now called the chicken of the sea because of his foolishness for abandoning the ship while it was sinking.
So watch out and keep your eyes for our news reports we might post them on.
PLEASE comment